Materials development services
Materials development services
Exploration is at the core of innovation. At VBN Components, we venture into the unknown to discover new, high-performance metal alloys that can transform your operations. Our Materials Development Services are spearheaded by material experts and leverage cutting-edge additive manufacturing technologies to unravel materials with exceptional wear resistance and unique capabilities.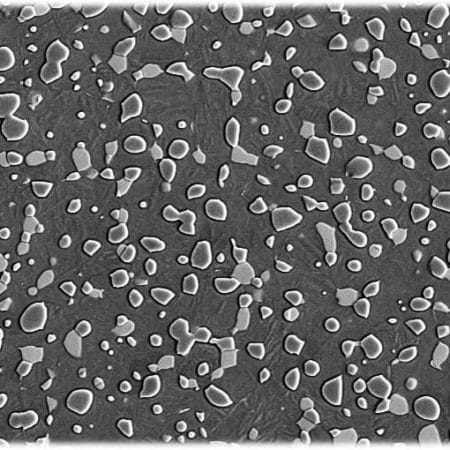 Examples of microstructure for two different alloys – the characteristics can be customised in many ways.
Customised alloy development:
Your operations are unique and may require specialised materials. Our experts engage closely with you to develop custom alloys that meet your stringent performance and application needs.
Unleashing the potential of high-performance materials:
Our pioneering Vibenite®️ materials are a testament to what can be achieved with a blend of curiosity, expertise, and cutting-edge technology. Embark on a journey with us to discover materials that stand the test of time and performance.
Advanced heat treatment with URQ-HIP:
Our in-house URQ-HIP (Uniform Rapid Quenching-Hot Isostatic Pressing) machine opens up new horizons in material treatment. Achieve pore-free materials and enhance alloy characteristics through unique heat treatment possibilities.
Collaborative research for material optimisation
Leveraging robust partnerships with reputable research organisations, we delve deep into materials characterisation to ensure the developed materials are optimised for your applications.
With our in-house capabilities, we significantly cut down delivery times, ensuring your operations are not held back waiting for the right material.
Our approach to materials development is not only about performance but also sustainability. We minimise environmental impact through reduced heating, transport, and a recycling system for process gas.
Enhanced component performance
Dive into a realm where materials amplify component performance and longevity, driving operational excellence.
Embark on a collaborative expedition to develop materials that are tailored for your operational needs. Reach out to us and explore how our Materials Development Services can redefine what is possible.